Falwell's spirit lives on in Poland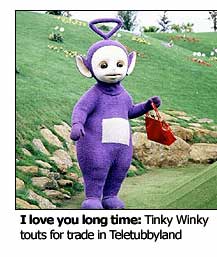 The BBC reports that the government spokesperson for children's rights in Poland has ordered an investigation into the Teletubbies.
Like the late Jerry Falwell before her, Eva Sowinska is concerned that Tinky Winky (the Purple One) might be a sinister attempt by the Homosexual Lobby to turn innocent heterosexual toddlers into marauding sodomites. She has ordered psychologists to investigate.
She told a magazine:
I noticed he was carrying a woman's handbag. At first, I didn't realise he was a boy.
As Ms Sowinska is Polish she can perhaps be forgiven for not knowing that Tinky Winky is a boy's name.
UPDATE: (31 May) It seems that international ridicule can sometimes have a positive effect. A spokeswoman for Eva Sowinska has confirmed that the investigation into Tinky Winky's sexual preferences will be dropped.
They are fictional characters and have nothing to do with reality.