Pagans upset, threaten "rain magic"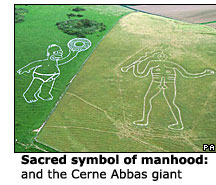 This time it is the Cerne Abbas giant which is being treated with disrespect. Promotors of the new Simpsons Movie have painted a donut-weilding Homer next to the giant above the Dorset village.
It is painted using biodegradable paint which will wash away as soon as it rains.
Pagans are up in arms. Ann Bryn-Evans, joint District Manager of the Pagan Federation in Wessex:
It's very disrespectful and not at all aesthetically pleasing. We were hoping for some dry weather but I think I have changed my mind. We'll be doing some rain magic to bring the rain and wash it away.

I'm amazed they got permission to do something so ridiculous. It's an area of special scientific interest.
While it is amusing that pagans have such things as "joint District Managers", credit must be given for their restrained reaction. If only other offended religious groups would restrict their protests to the performance of harmless magic rituals instead of demands for censorship and death threats.
UPDATE: The b3ta boards are host to an animated version: