4 Motoon protestors jailed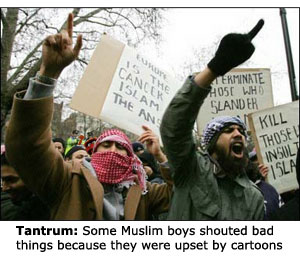 Four Danish embassy Motoon protestors have been jailed for soliciting murder and stirring up racial hatred in 2006.
Mizanur Rahman, 24, Umran Javed, 27, and Abdul Muhid, 24, were each jailed for six years for soliciting murder, and Abdul Saleem, 32, got four for inciting racial hatred.
The hearing was picketed by around 40 demonstrators waving placards with slogans including "Muslims Under Siege".
Chief Superintendent Ian Thomas of the Met said:
We have a long history of facilitating lawful demonstration, taking into account freedom of speech.

However, these people stepped over that line and broke the law.