Gay Jesus exhibit provokes violent protest in Sweden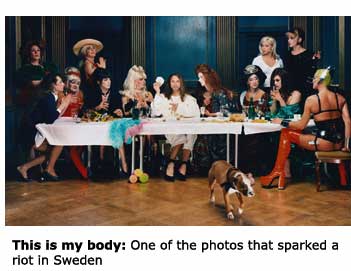 An exhibition of photographs in the Swedish town of Jönköping has sparked a violent reaction among young Christian fundamentalists.
The Ecce Homo exhibition, by Swedish artist Elisabeth Ohlson has been causing upset since it was first shown a decade ago.
On Sunday a group of young Christians tried to set fire to a poster outside the gallery. When staff tried to intervene a fight broke out, involving around 30 people.
Tony el Zouki, chairman of the Kulturhuset, said:
If this is some Christian group, then I really do not understand them. The message of Christianity is that people should understand and love each other. I really can't see how this can have a Biblical explanation.
Jönköping is known as the heartland of Sweden's evangelical Christian movement. The boys obviously don't want no heathen photographer dissing the Messiah on their home turf.
(Hat tip The Freethinker)