Christians not allowed to eat Mohammed on TV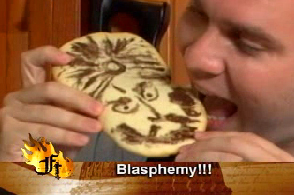 While the world waits for Geert Wilders' provocative Koran movie to debut on YouTube, a bunch of right-wing Christians are planning to eat a Mohammed cookie on TV.
The makers of Flamethrower TV (nasty Flash website), which airs weekly on Faith TV in the US, had already recorded the "All Things Islam" episode. But yesterday the channel pulled the episode because of its controversial nature.
The show looks pretty terrible, and the writers are clearly demented Jesus-Christers, but you have to love the Mohammed cookie idea.
The episode will be available for viewing in the Media section of their website later today.