German atheist kids' book slammed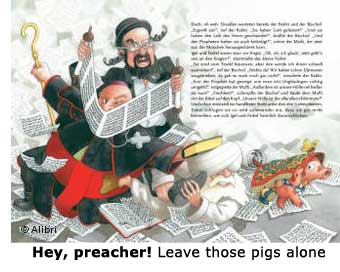 Apparently the German Family Ministry has a list of books considered "dangerous to young people" – and they want a new children's book about religion added to it.
Titled "How Do I Get To God, Asked the Small Piglet", the book tells the tale of two little friends (a pig and a hedgehog) who set out to look for God. Their adventure leads them to discover certain things about Christianity, Islam and Judaism. According to the ministry "the distinctive characteristics of each religion are made ridiculous".
That can't have been difficult.
The two tiny chums meet a rabbi, a bishop and a mufti who are portrayed as insane violent and continually at each other's throats. Perhaps the book is considered to close to real life for sensitive German children?
The Deutsche Welle article linked above isn't exactly sympathetic to the book, but is quite amusing in the descriptions of the three faith leaders featured.
The bishop, a pale fat man with a clearly insinuated predilection for child abuse, makes up the unholy trinity which eventually convinces piglet and hedgehog, after they have survived the long search in the maze of religions, that nothing of any importance has been missing from their lives.
The publisher, Alibri, has condemned the ministy's action as an attack on free expression, and the author, Michael Schmidt-Salomon, said the book was
desperately needed considering the enormous mass of religious children's stories.

Children also have a right to enlightenment. They should not be left defenseless to the scientifically untenable and ethically problematic stories of religion.
We need an English translation – NOW!