"I want millions" cartoon dubbed a "hate crime"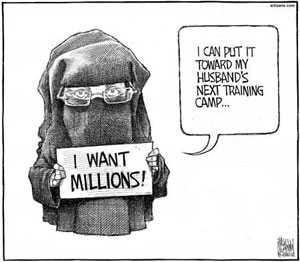 This cartoon, published in April by the Chronicle Herald in Canada, has been reported to police as a "hate crime" by the director of the Centre for Islamic Development (CID).
It depicts Cheryfa MacAulay Jamal, whose husband Qayyum Abdul Jamal was held for 17 months on suspicion of terrorism. On his release without charge, she stated in an interview that she wanted millions in government compensation.
The cartoon by Bruce Mackinnon was printed on April 18, and immediately drew the ire of Zia Khan of the CID. He claimed that it went beyond the boundaries of free speech.
It doesn't.
Dan Leger, the Herald's director of news content:
The whole purpose of that cartoon was to comment on the outrageous demands of this individual for compensation long before any hearing into her case had ever been held […]

[MacKinnon] depicted her exactly the way she looks and used her own words, and that's the genius of cartooning that you're able to do that
Khan sees things differently.
This is a horrendous thing in this day and age where you are feeding the seeds of hatred toward a whole community of 1.8 billion people.

You would not put a native American Indian with feathers and say I need money in order to cull white people's heads. You wouldn't do that. This would be libellous.
(Hat tips to The Freethinker and the Comics Reporter)