This sign is illegal in the UK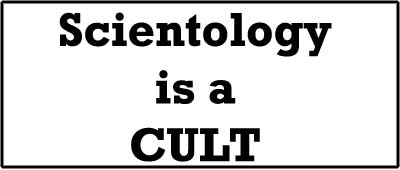 A protester outside Scientology's London headquarters was ordered by police to take down a sign saying "Scientology is not a religion – it is a dangerous cult". According to the anarchist newsletter Schnews the 15-year-old demonstrator, who goes by the name "The Epic Nose Guy", was handed a written warning by a WPC stating,
The sign you are displaying commits an offence under Section 5 of the Public Order Act 1986. You are strongly advised to remove the sign with immediate effect.
One police officer told Schnews that,
Our solicitors at the Crown Prosecution Service have advised us that any signs saying 'Scientology is a cult' could be deemed offensive. They are being treated as a religious organisation for the purposes of today.
The CoS and the City of London Police appear to have a rather cosy relationship, with Chief Superintendent Kevin Hurley speaking at the opening of the London HQ in October, saying the science-fiction cultists were "raising the spiritual wealth of society".
Here is Epic Nose Guy, who was given a court summons for refusing to remove his sign, explaining what happened on the day of the protest.
[youtube]http://www.youtube.com/watch?v=Tgq9xOWgmhs[/youtube]
(Hat tip, Bartholomew)
UPDATE: (May 21) The Guardian has more information, including this quote from Shami Chakrabarti, the director of Liberty:
This barmy prosecution makes a mockery of Britain's free speech traditions.

After criminalising the use of the word 'cult', perhaps the next step is to ban the words 'war' and 'tax' from peaceful demonstrations?
And from Ian Haworth, from the Cult Information Centre:
This is an extraordinary situation. If it wasn't so serious it would be farcical. The police's job is to protect and serve. Who is being served and who is being protected in this situation? I find it very worrying.

Scientology is well known to my organisation, and has been of great concern to me for 22 years. I get many calls from families with loved ones involved and ex-members who are in need of one form of help.