A new Dispatches affair?
The backlash from In God's Name, Channel 4's latest religious-bigot-exposing documentary, has not yet begun – but it will be interesting to compare it to the uproar caused when the bigots being exposed were Muslims (as in Undercover Mosque), rather than Christians. MWW predicts that a handful of complaints to Ofcom about bias/misrepresentation will be made, then dismissed. And that will be the end of it.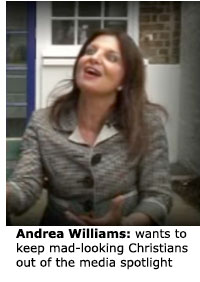 It was an excellent documentary. Informative and entertaining at the same time. Stephen "Bird Shit" Green featured quite prominently (watch the doc to understand the new nickname, or read Bartholomew's review), and he cut a rather pathetic figure. Almost pathologically obsessed with his image, he veered from cheerful bonhomie to the edge of violent irritation. He is obviously such a disturbed personality – a tragic example of the damage religion can do to the weak-minded – that we that almost felt bad about making fun of him so much. Almost.
But Andrea Minichiello Williams of the Lawyers' Christian Fellowship was the real star of the show. More media-savvy than any of the others, she was shown frantically running around an "pro-life" demo trying to get the cameras to stop filming the loonier elements of her natural constituency. But even she floundered when asked such basic questions as "How old is the earth?" (she reckons about 4,000 years) and "Is Islam the work of the Devil?" (she almost certainly thinks so, but does not want to say it in front of a camera).
We await the response with eager anticipation.
[youtube]http://www.youtube.com/watch?v=TeTfW8-dCNE&feature=PlayList&p=6D4B9922B0593615&index=0&playnext=1[/youtube]