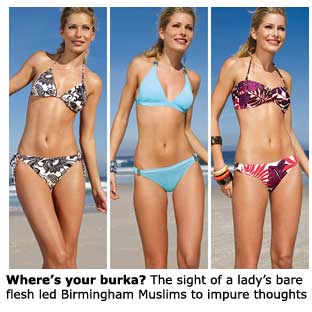 An advertising hoarding in Birmingham's predominantly Muslim Sparkbrook area has been vandalised, prompting a councillor to call for more control over what is displayed in "culturally sensitive" areas.
Matalan's poster for their latest range of ladies' swimwear proved too provocative for the vandal, who used thick white paint to cover up the glistening whore-flesh before it defiled with lustful visions the pure minds of Sparkbrook's Muslim males.
Councillor Talib Hussain:
I condemn the people that did this but at the same time it's wrong for companies to put that kind of advert in sensitive wards.
I have received complaints on a number of occasions not to put adverts like that in Sparkbrook. The city council should not give permission to advertising like that in these wards. Having families seeing naked pictures does not bring the community together, it provokes things.