South Park "insults" religion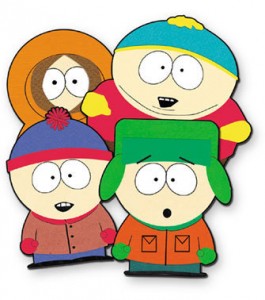 The delightful South Park is not to everyone's taste, it seems. There are a bunch of people in Russia who want to ban it from their television screens (John "Massa" Beyer hasn't emigrated, has he?).
Now you might associate Russia with censorship of all kinds of things, but a TV programme about a bunch of nine-year-olds that's won Emmys?
Ah, but the organisation wanting to do the banning is called the Russian Union of Christians of Evangelical Faith. That explains it.
It did cause some controversy when it was launched, parodying, as it did, celebrities, politicians, religion, gay marriage and Saddam Hussein. Perhaps it's the parodying of religion they don't like.
Konstantin Bendas, leader of the Christian group, said,
Young children should not be able to turn on the TV after school and watch this. It insults the feelings of religious believers and incites religious and national hatred.
How they prove national and religious hatred has been incited, goodness only knows. As for insulting the feelings of religious believers, well they have the off switch if they don't like it.
The programme is dubbed into Russian. Perhaps it's called Gorky Park. Perhaps not.
UPDATE: (Sept 10) Bartholomew's Notes has more.