Viz features Stephen Green again
Regular readers of Viz comic (isn't everybody?) will know that figure-of-fun bigot Stephen Green of failed fundie lobby group Christian Voice is portrayed frequently in their pages. This month's edition carries a particularly satisfying depiction of him in Hell.
In the strip "Danny's Inferno" the lord mayor accidentally falls through the doors of young Danny Alighieri's portable Hell in a Handcart, and finds himself trapped for eternity:

As you can see from this close-up, the artist has really captured his essence: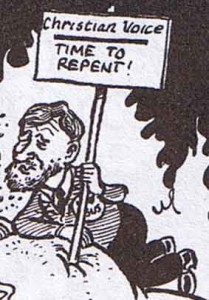 This month's issue also features a "Gilbert Ratchet" story in which God is accidentally killed by a vicar wielding a splat-the-rat bat at the church fete.