"Turbomb" Motoon goes on sale – website gets attacked
A day after the mainstream media reported that the Denmark-based International Free Press Society was selling 1,000 signed prints of Kurt Westergaard's iconic "Turbomb" cartoon, their website was hit by a DDoS attack and remains unavailable.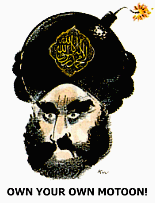 Two alternative sites have been set up at Wordpress and Blogspot, which are unlikely to collapse at the hands of zealous Turkish script-kiddies.
As is usual with such crude attempts at censorship, the actual effect is the opposite of the intended effect. Lars Hedegaard, President of the International Free Press Society said:
This was an attack against IFPS as an organization, and against our mission to support freedom of expression worldwide. Happily, it had the effect of increasing support for our activities as the word spread that we were being threatened. We encourage everyone to visit our temporary website at http://internationalfreepresssociety.wordpress.com and soon the restored one at www.internationalfreepresssociety.org , and to help support artists like Kurt Westergaard by purchasing a signed copy of his cartoon.
Diana West, Vice President of the International Free Press Society, added:
In addition to increasing demand for the cartoon prints, this crude cyber-assault on free speech has boosted people's awareness of the urgency of the IFPS mission.
And Westergaard himself:
The contemptible attempts to close us down will not succeed. The enemies of free speech will soon realize that their hacker attack on the IFPS website has only made us all the more determined to get our messages out. I take great comfort from the fact that so many people have already bought my cartoon. It's good to know that freedom of expression has defenders all over the world.
If you want one, it will set you back US $250 (188 Euros), including postage.