Jewel of Medina withdrawn from Amazon
The Brussels Journal carries without comment an email sent from Amazon.co.uk to a would-be purchaser of Sherry Jones' burka-ripper, The Jewel of Medina: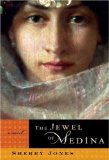 Dear Customer,

We are contacting you regarding your Amazon.co.uk order which included the following:

———————————–
ISBN-10: 1906142408

"The Jewel of Medina"
———————————–

This item has been removed from sale due to a legal reasons.

We have cancelled your order for this item and can confirm that you have not been charged for it.

We apologise for the inconvenience caused.

We look forward to serving you again in the future.

Warmest regards,

Customer Service Department
Amazon.co.uk
"Legal reasons"? As far as we are aware, there are no legal reasons for Amazon.co.uk not to sell this book. If you know otherwise, please get in touch.
The book is still available from Amazon.com.