Fenerbahçe cross at football shirt offence (3-0)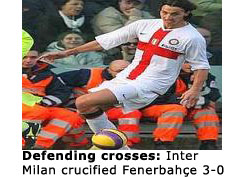 A Turkish lawyer has filed a complaint to UEFA after Inter Milan wore a football shirt with a symbol said to be offensive to Islam during their 3-0 victory over the Turkish team Fenerbahçe.
The red cross on a white background is the symbol of the northern Italian town, but lawyer Baris Kaska has asked UEFA to cancel Inter's 3 points for their "racist" action.
The cross reminded me of the bloody days of the past
sobbed Kaska, as tears of anguish streamed down his crumpled face. Possibly.