Clareification editors questioned by police
Index on Censorship reports the shocking news that both the editor and guest editor of the controversial Crucification publication were questioned under caution by Cambridgeshire police last Friday. They were interrogated under Section 5 of the Public Order Act, and a file was sent to the Crown Prosecution service, which will decide whether or not charges are to be pressed.
We would have thought it unlikely that such a travesty will occur, but then again – what are Cambridgeshire police doing questioning these students in the first place?
Index carries the front cover of the issue in question: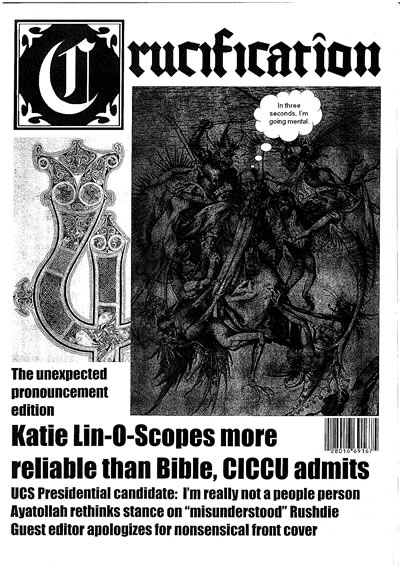 (Thanks once again to David T for keeping his eye on this ball)
UPDATE: (10 minutes later) A full description of the contents Crucification is now up at Harry's Place. The majority of the religious content of the issue was devoted to criticism of the Gospel of Mark.