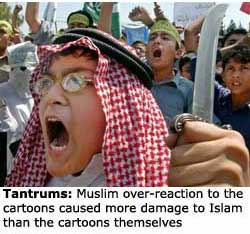 Having failed twice in their attempts to get Jyllands-Posten prosecuted under Danish criminal law, a group of 27 Muslim organisations are filing a lawsuit against the paper for "defamation".
Michael Christiani Havemann, a lawyer representing the Muslim groups, says
We're seeking judgment for both the text and the drawings which were gratuitously defamatory and injurious.
The groups are apparently blind to the fact that their continued hysterical over-reaction is far more injurious to the image of Islam than any of the 12 cartoons that appeared in September – or indeed any of the thousands of others that were drawn as a direct result of their hysterical over-reaction.