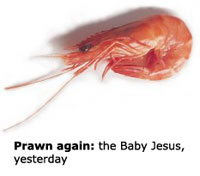 The ASA today ruled that an ad placed in The Grocer magazine depicting a nativity scene with a prawn in the manger did not breach the CAP code. The Big Prawn Company were advertising their "new King prawn". Text underneath the picture stated "'A KING IS BORN' ORDER NOW TO ENSURE A CHRISTMAS DELIVERY".
The ASA received 37 complaints, the Big Prawn Co 16, and The Grocer 28. The advertiser and the magazine responded to each complaint, and an apology was published in the following issue.
The ASA ruled:
While we noted some readers had been offended by the depiction of a prawn in place of the baby Jesus, we considered that the approach would be seen as light-hearted by most readers of The Grocer; it was unlikely to cause serious or widespread offence.
Some people react badly to seafood.