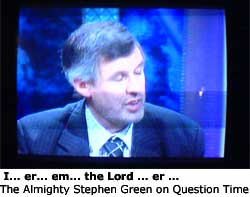 He may have seen it as a huge opportunity to bring the word of God to the nation but, in the event, Stephen Green's stuttering, lip-licking, and frequently incoherent performance on BBC's Question Time did more to undermine the credibility of Christian Voice than a hundred protesting pickets.
Laughed at by the audience, berated by Simon Hughes, disdained by Dimblebly, and openly mocked by Janet Street Porter, you would have almost felt sorry for him – if you didn't know him, or had missed his latest press release entitled Purity Comes to New Orleans.
When he wasn't inducing groans with his bible quoting, his contributions ranged from the nonsensical to the banal. As Tim at bloggerheads notes, he seems to believe that freedom of speech only applies when you're criticising the government. Luckily for him, there were no questions which allowed him to exhibit the full extent of his ignorant bigotry. Homosexuality and Charles Darwin were conspicuously absent. Pity.
There was a demonstration outside the Corn Exchange in Brighton by local gay rights activists prior to the recording. And, according to Ekklesia, the Moderator of the General Assembly of the United Reformed Church, Rev David Peel, also spoke out in protest, saying
Christian Voice has the right to express its extreme views, but it is as representative of Christian opinion in Britain as the Monster Raving Loony Party would be of mainstream political parties – and far less entertaining.
It is unlikely that Mr Green will be invited back.
You can hear/see the whole thing again here (sans the lip-licking).