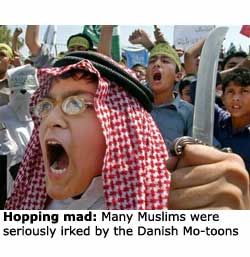 Asia Media reports that a Pakistani lawyer, Iqbal Haider, has formally registered a complaint about the Danish cartoons at a Karachi police station. The blasphemy law in Pakistan calls for the death penalty for anyone defiling the prophet or the Koran.
I filed the petition in January 2006 and the Supreme Court ordered the police to register the complaint. The case has been registered under the blasphemy law and under the anti-terrorist act.
The court will now issue notices to the original cartoonists, the editor of Jyllands-Posten, newspapers in Denmark, Germany, France, Ireland, Norway, Italy and the Netherlands, and the internet search engines Google and Yahoo for providing links to the notorious sketches.
The question is, will anyone turn up?