Calls to ban "obscene" Bible in Hong Kong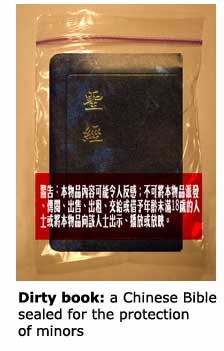 Hong Kong's Television and Entertainment Licensing Authority (TELA) has received over 800 complaints about the Bible. Campaigners are hoping to have the Holy Book reclassified as "indecent", which would mean only those over 18 could buy it and it would need to be sealed in a wrapper with a statutory warning notice.
The campaign seems to have been started when an article in a student newspaper asking readers if they had ever fantasised about incest or bestiality was deemed "indecent" by the Obscene Articles Tribunal. A website, Truth Bible, was set up detailing the various acts of violence and pornography contained in God's Perfect Message To The World, as well as its numerous contradictions, absurdities, failed prophecies, inaccuracies and plagiarisms. The website is in Chinese, but has a disclaimer in English in its masthead:
LEGAL DISCLAIMER WARNING: THIS WEBSITE CONTAINS BIBLE MATERIAL WHICH MAY OFFEND AND MAY NOT BE DISTRIBUTED, CIRCULATED, SOLD, HIRED, GIVEN, LENT, SHOWN, PLAYED OR PROJECTED TO A PERSON UNDER THE AGE OF 18 YEARS
TELA in as yet undecided on whether or not to rule against Yahweh's Inerrant Word, but a local protestant minister is phlegmatic:
If there is rape mentioned in the Bible, it doesn't mean it encourages those activities. It's just common sense … I don't think that criticism will have strong support from the public.
UPDATE (May 18) A passing commenter informs us that complaints about the Bible have now exceeded 2,000 (the student paper received only around 200), but TELA has so far refused to refer the case to a tribunal. Complaints have been made to an ombudsman about TELA's double standards.
UPDATE: (May 19) The Telegraph today confirms yesterday's update. The reason given for exonerating the Bible was:
The Bible is a religious text which is part of civilisation. It has been passed from generation to generation