Giving an inch to Islamic Rage Boy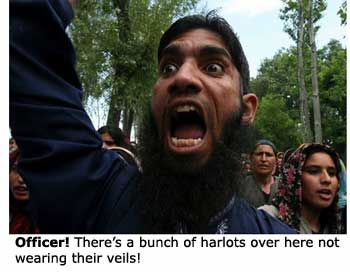 Rage Boy (pictured left) is a serial protester and something of a poster-child for Islamic grievances. Indeed, this is not his first appearance on MWW. He is featured in an article today in Slate, by Christopher Hitchens.
The MWW article below which mentioned "not giving an inch" to people such as Rage Boy inspired a comment from Ophelia Benson of Butterflies and Wheels, the eloquence and passion of which demand that it be reprinted here:
And along with not giving them an inch it's crucial that we keep explaining to them and to the fans of inch-giving why we are not giving them an inch and why they have no right to an inch and why they have no legitimate grievance about their non-receipt of an inch. We have to keep explaining loudly and softly, briefly and at length, rudely and politely, and always lucidly. We have to keep on and on and on doing it until they get the point. 'No inch is forthcoming because you have no, repeat no, legitimate claim to an inch. Now go away.'
UPDATE (June 29) Bazmeister in the comments pointed out the similarity between Rage Boy and Animal from the Muppets. In fact, a closer look at some recent protest photos shows that Animal is actually taking part. Here, for example:



And you can just about make him out here: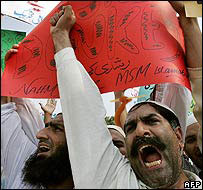 Who knew Animal was a ragin' Muslim?