Transvestite Pontiff pulled in Milan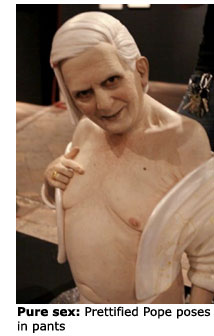 A gay art exhibition in Milan has been forced to remove a sculpture of Pope Benedict XVI in drag.
The exhibit, entitled "Miss Kitty", prompted the Catholic Anti-Defamation League to threaten to press charges, claiming that it constituted "defamation of a head of state".
It is a vulgar offence against Christ's Vicar and the feelings of the Roman Catholics.
They did not explain exactly what was offensive about depicting the Pope in nothing but a blond bob wig, a stole, panties and thigh-high stockings.
Another piece showed the Italian Premier Roman Prodi's spokesman talking to a transvestite. The curator of the gallery told AP, "It was made clear to us that it would be better to remove the pieces."
"Miss Kitty", by Paolo Schmidlin, was bought by Milan's top culture official, Vittorio Sgarbi, who helped set up the exhibition. He said:
I'll keep it with me so that I can give the Pope back the decorum he deserves