Turkish hackers attack Swedish sites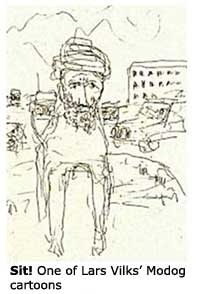 AP reports that more than 5,000 Swedish website have been attacked in the past week, many of them as a result of Lars Vilks' Modog cartoons.
Apparently, dogs are traditionally unpopular among some Muslims because angels are afraid of them and won't enter a house if there is one inside.
Mr Vilks has stated that Muslims in the West will need to get used to people making fun of their prophet because "here in the West we mock everything."
Meanwhile, there have been reports that Mr Vilks is planning to write a musical on the whole affair.
"I think it would help the debate," he said.