You are responsible for our reactions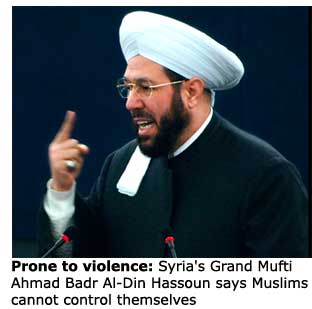 Far-right Dutch politician Gert Wilders is due to release his controversial film about the Koran this month. He wants to show that it is a "terrible fascist book" which inspires people to murder, and he regards the film as a follow-up to Ayaan Hirsi-Ali's Submission (although Hirsi-Ali has condemned Wilder's film as "provocative").
She could be right. In a speech to MEPs on Tuesday on the subject of intercultural dialogue, the Grand Mufti of Syria, Ahmad Badr Al-Din Hassoun gave a warning to the Netherlands that if Wilders tears up or burns a Koran in his film,
this will simply mean he is inciting wars and bloodshed. And he will be responsible.
He goes on to say that he thinks it in "the responsibility of the Dutch people to stop Wilders".
Perhaps more disturbing than the threats themselves in the fact that the European Parliament report on the mufti's speech was too fawning to mention them. That was left up to the rather right-wing but well established magazine Elsevier.
UPDATE: (20th Jan) The Observer reports that the Dutch government is already in a tizzy, holding crisis meetings, drawing up security plans, warning overseas nationals to register with their embassies. They even wheeled out Foreign minister Maxime Verhagen to repeat the old falsehood:
It is difficult to anticipate the content of the film, but freedom of expression doesn't mean the right to offend.
Oh yes it does!