Danish papers reprint Turbomb in solidarity with Westergaard
The Jyllands-Posten reports the good news that "all the country's major dailies" have reprinted Kurt Westergaard's iconic "Turbomb" Motoon in their reports of the arrest of three Muslim men alleged to have been plotting the 73-year-old cartoonist's murder.
Newspapers which at the height of the crisis criticised the Jyllands-Posten for publishing the Motoons today decided to reprint the most controversial of the twelve as an "act of solidarity". Presumably the fact that it was an essential part of the news story was also a factor.
Pity the UK press did not think so.
Lisbeth Knudsen, editor of Berlisgske Tidende, said:
We can't accept that freedom of speech be taken hostage by religious fanaticism. Freedom of speech can be respectful and tolerant, but it should never be intimidated into silence.
Tøger Seidenfaden, Politiken's editor-in-chief:
In a free society, we can discuss how public discussions should be conducted, but not if they should be conducted.
These cartoons have become the equivalent of a naughty step for violent Muslim toonophobes. Like tantrum-prone toddlers, their behaviour is unacceptable, and if they continue to misbehave the cartoons will continue to be published far and wide. They do not like it, but they must sit on that naughty step and think about their actions until they understand the rules.
Meanwhile, The Local reports that a map of Lars Vilks' house and documents on night-vision binoculars were seized during the arrest of two terror suspects in Sweden.
As you may remember, Mr Vilks has bounty on his head for drawing this: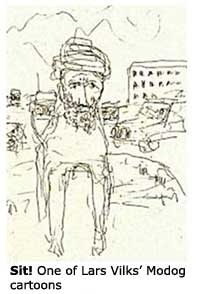 UPDATE: (15th Feb) The Iranian government, that fine example of civilisation and human respect,
has summoned the Danish ambassador for a telling off.
UPDATE: David Thompson has some good commentary on a disgusting piece in Comment is Free by Faisal al Yafai, who managed to excrete 500 sneering, smart-arsey words without once mentioning why the cartoon was reprinted.