Quack closes Quackometer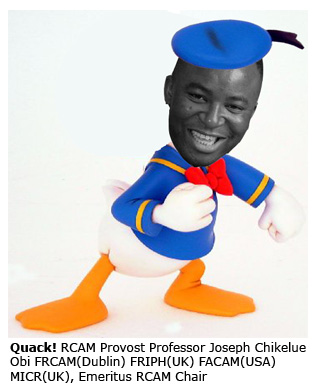 Netcetra, webhost to the Andy Lewis's excellent Quackometer, has folded at the merest whiff of a lawsuit from a notorious "alternative medicine" practitioner.
"Professor" Joseph Chikelue Obi, self-proclaimed "Alternative Medicine Strongman and Royal College of Alternative Medicine (RCAM) Boss", didn't like being exposed on Quackometer so he got someone called "Suessenbach", his legal representative, to scare Netcetera into shutting down the site.
It wasn't too difficult.
Thankfully, Positive Internet have agreed to take on the website. Not that Obi will be deterred. According to his blog:
if the Quackometer's current ISP (Positive Internet Ltd) decisively fails to tackle the legitimate concerns of the Alternative Medicine Fraternity , then we will have no other option but exert appropriate fiscal leverage through the commercial invoices of it's major client base, many of whom are (thankfully) exceedingly well known to us.

For each errant ISP (or Media Outfit), we will use a totally different strategy altogether ; as it is firmly against the law of Natural Justice for any one of them to be greedily making an outrageously easy living out of intensely amplifying our very own indelible pain and suffering.

So , all of those Tuppeny Defamers who are gleefully expecting us to use the very same modus operandi more than once, should please kindly think again.

My fundamentally humble message to all Skeptic Internet Service Providers (out there) today is therefore extremely loud and exceedingly clear : Stop condoning the ruthless harassment of Alternative Medicine Practitioners – or be fully prepared to face the dire financial consequences of your actions!".
Anyone got some stale breadcrumbs to chuck him? That might keep him occupied for a while.
This isn't the first time someone has tried to silence Quackometer. As we reported last year, the Society of Homeoquacks successfully cowed his ISP to pull an article critical of them. He's well shot of Netcetera.
UPDATE: (25th Feb) Quackometer is back.