Japanese cartoon "insults" Koran, offends Muslims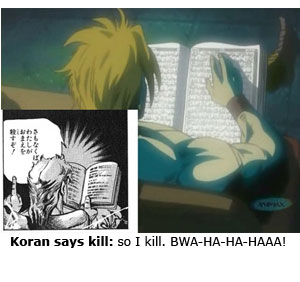 A Japanese anime producer has been forced to apologise and suspend production of a cartoon because of a scene showing the villain reading the Koran.
JoJo's Bizarre Adventure, a popular anime published by Shueisha Inc, features a baddie called Dio Brando who picks a Koran from a bookshelf and examines it before ordering the deaths of the hero and his chums.
This scene depicts Muslims as terrorists, which is not true at all. This is an insult to the religion and the producers would be considered to be enemies of Islam.
said the sane and rational Sheikh Abdul Hamid Attrash, chairman of the Fatwa Committee at Al-Azhar in Cairo.
There have been calls for an international Muslim boycott of Japanese goods. Good luck with that one, Muslim world.
Shueisha Inc, keen not to lose sales in the Muslim market, grovelled accordingly.