This cartoon is an act of terrorism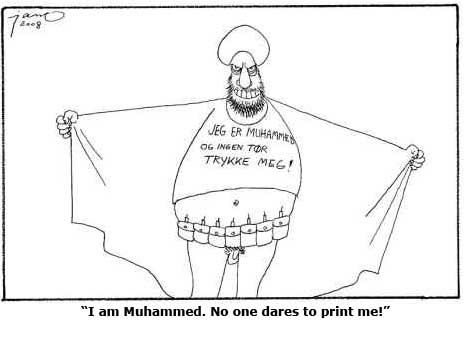 Does Pakistan have a policy of appointing its stupidest people as ambassadors in Scandinavia?
Last week the Norwegian newspaper Adresseavisen printed the above cartoon. This weekend, Pakistan's ambassador to Norway, Rab Nawaz Khan, told TV2:
What is terrorism? Terrorism you commit an act, and thereby invite a strong reaction. And that reaction when it gets into spin it is uncontrollable. Similarly this hurts the feelings of the Muslim community all around the world, and therefore I think in a way it is an act of terrorism.
Nice logic there, Rab. You hurt my feelings, therefore you are a terrorist. Somebody give this fool a dictionary, please.
This preposterous cry-baby goes on to make threatening noises about the possible repercussions:
It also puts he lives of the Norwegian citizens in danger around the world. You must not forget that there are number of Norwegian companies working in Pakistan
Listen Rab – one of the things that happens when you reach adulthood is that you become responsible for your own actions. That is why children are not subject to criminal law. Does Islam really have such a retarding effect that it keeps so many of its adherents in a perpetual state of immaturity? It would appear so.
Maybe it is time to grow up and snap out of it.
(The commentary is in Norwegian, but the idiot speaks English)
(Hat tip Islam in Europe)