Spanish royals get uppity again
Two Basque newspapers are on trial for making fun of King Juan Carlos I. The first, a satirical supplement of the newspaper Deia, carried this photo montage on its front page: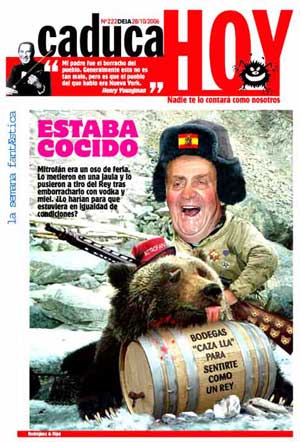 It refers to an incident in 2006 when the king shot a circus bear which had been plied with vodka to make it easy prey for him. The headline reads "He was cooked".
The other Basque paper, Gara, joins Deia on trial for the separate offence of publishing an article entitled "The Tribulations of Yogi Bear". Judge Fernando Grande-Marlaska overruled an earlier exonerating judgement to insist that the cartoon and articles were "an attack on the monarch's self-esteem" and damaging to the Crown.
One of the cartoonists, José Antonio Rodrigues, replied:
The King of Spain is perhaps the most overprotected person in Europe. […] If his self-esteem has been damaged, well, perhaps he needs to see a psychologist.
Meanwhile, the two cartoonists who were fined 3,000 euros for another royal-bashing cartoon last year, are appealing the decision. Their cartoon of Crown Prince Felipe shagging his wife became a collectors item after a judge ruled that all copies of the magazine be removed from newsstands.
Finally, The Times also reports that a Catalonian comedian and actor called Pepe Rubianes has been charged with "insulting Spain" for saying,
I wish they would shove Spain up their arse, see if it explodes and leaves their balls hanging from the bell tower.
The public prosecutor wants Rubianes fined 21,500 euros.