Catholics cross again at misuse of symbols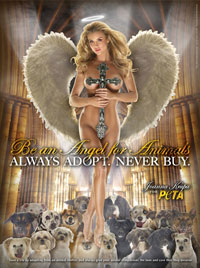 Ranting Catholic loon Bill Dohohue has been complaining about the latest Christmas ad from PETA. It features a nude Joanna Krupa as an angel carrying a strategically placed cross, hovering over a pack of cute looking dogs in what appears to be a church.
The ad is part of the PETA campaign to encourage prospective pet owners to adopt homeless animals, rather than buy from a shop or a breeder.
The Catholic League are fuming. Donohue accuses PETA of exploiting Christian iconography and states,
Those who support this organization sorely need a reality check. They also need a course in Ethics 101.
Without a trace of irony!
Krupa fired back,
As a practicing Catholic, I am shocked that the Catholic League is speaking out against my PETA ads, which I am very proud of. I'm doing what the Catholic Church should be doing, working to stop senseless suffering of animals, the most defenseless of god's creation.
(Hat tip The Freethinker)