Another ad gets Catholics mad
This time it's an ice-cream manufacturer that has upset the biscuit-munchers with an ad which contains religious imagery.
The Advertising Standards Authority has received 40 complaints about the Antonio Federici poster depicting a pregnant nun about to tuck in to some posh dairy-based dessert
because it mocks the virgin birth of Jesus.
Here it is: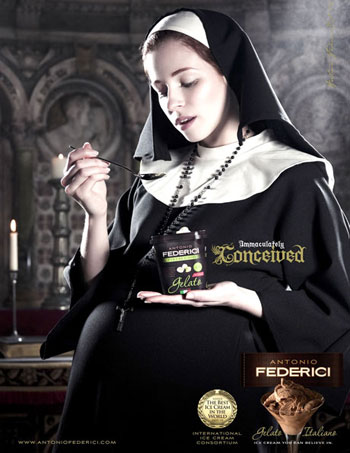 This is not the first time Federici has got into trouble with the ASA. Last June it was ordered not to republish an ad with featured a nun and a priest about to kiss. The judgement concluded that it breached COP Code 5.1 (decency):
We considered that the portrayal of the priest and nun in a sexualised manner and the implication that they were considering whether or not to give in to temptation, was likely to cause serious offence to some readers.
Here's that one:


They're getting offended rather a lot these days, the Catholics. If they weren't Catholics, they wouldn't be offended so much. An obvious answer presents itself.