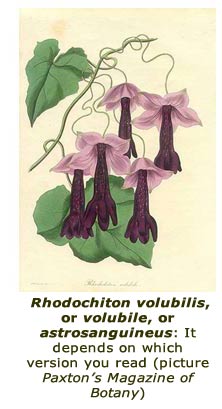 Whether you call it Rhodochiton volubilis, R volubile or R astrosanguineus, it amounts to the same thing: it's a certain appendage of the male Homo sapiens of a certain colour. But you're not allowed to say "black man's willy", so we won't.
Right, now that's got your attention, let's talk about the row. A row over nothing, really. Last October, BBC Radio 4 recorded a Gardeners' Question Time in which a listener rang in to ask the panel a question about what he termed BMW, or, as he then put it, black man's willy. Oh, we've said it again.
Anyway, this is just the popular name for this plant of the Plantaginaceae family, but the PC brigade got up in arms about it and now the supine BBC has caved in and apologised.
The reference got the panellists giggling, of course – as you would expect. Although its colour was mentioned by one of them, it doesn't sound as if there were any racial overtones. The Thisislondon news website says,
Panellists were heard giggling their way through a discussion about the plant. Gardening author Bob Flowerdew admitted he had "only ever seen one close up – and not that colour".

Horticulturalist Anne Swithinbank added: "I've never seen one in my life. They don't really like the cold, as you can imagine. They shrivel up and look very unhappy."
All good, only mildly ribald stuff, at no one's expense. But there's no accounting for the politically correct, and an inquiry went into overdrive and the BBC has now issued an apology, after "some listeners" complained of what the news site calls "racist stereotyping and vulgarity". (Haven't heard a peep from John "Massa" Beyer, yet, though.)
The fact is that plants have common names, such as Jew's ear, or Auricularia auricula-judae. This is a fungus that looks like an ear, and the name comes from its Latin binomial, as you can see. Do Wiccans complain about witch's butter (Tremella mesenterica), another fungus? Nope.
For the botanically minded among you, incidentally, depending on which story you read, BMW is called Rhodochiton volubilis, R volubile or R astrosanguineus (the last being in Wikipedia).
One thing's for sure: drivers of Beamers will think twice now about referring to their pricey set of wheels as a BMW! Especially if it's a black one.