Arab European League acquitted over Jewtoon
Good news from Holland, where the egregious Arab European League has been acquitted of hate crime for publishing a Holocaust-denying cartoon on their website.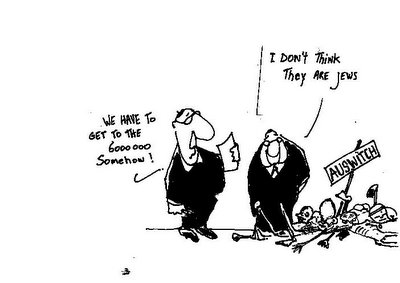 The group published the above cartoon to deliberately provoke a prosecution. Group leader Abdoulmouthalib Bouzerda was upset that Geert Wilders was let off for his Motoons, and so was determined to prove that
Freedom of expression is only a pretext to make life bitter for Muslims… and if [they] try to bring this hypocrisy to light, that right is denied them.
Poor Abdoul must have mixed feelings about the verdict: he has been proven innocent and wrong at the same time.