Lars Vilks attacked while giving lecture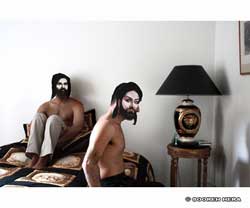 The Swedish artist famous for his Modoggie drawings has been headbutted while giving a lecture on freedom of speech in Uppsala University.
A local newspaper reported rather prissily that "the atmosphere in the lecture theatre became rowdy after Vilks showed a film with sexual content." In fact, if you watch the video of the event (now gone), it is clear that the flashpoint occurred when Vilks showed some pictures from Soora Hera's "Allah-o-gaybar" series (blogged here), depicting two half naked men wearing Mo-masks.
The lecture was obviously attended by a few idiots waiting for the opportunity to kick off, which they duly did at the first opportunity. The video shows that man who attacked Vilks was not the only violent one.
Fortunately, the artist was not injured.
[youtube]http://www.youtube.com/watch?v=JdyKmzEdHws[/youtube]
UPDATE: (12 May) According to The Washington Post Vilks now acknowledges that he was not headbutted by a protestor, but accidentally collided with a security officer who leapt to defend him from his would-be attacker. Three people were arrested over the incident.
Vilks remains commendably defiant:
What you get is a mob deciding what can be discussed at the university. […] I'm ready to go up again. This must be carried through. You cannot allow it to be stopped.